Reducing the emissions of your organisation is an important part of the journey towards a more sustainable future. Use our simple scorecard and template environmental policy to show what you have done already, and what you plan to do next.
Net Zero Scorecard
Our simple scorecard asks a series of questions about what your organisation is already doing across categories responsible for the highest emissions
Buildings and Energy
Travel
Buying and selling
Waste
Engagement
It only takes a few minutes to fill in. Based on your answers we will provide an over all Net Zero score, and a send a series of emails with recommended actions for you in each category.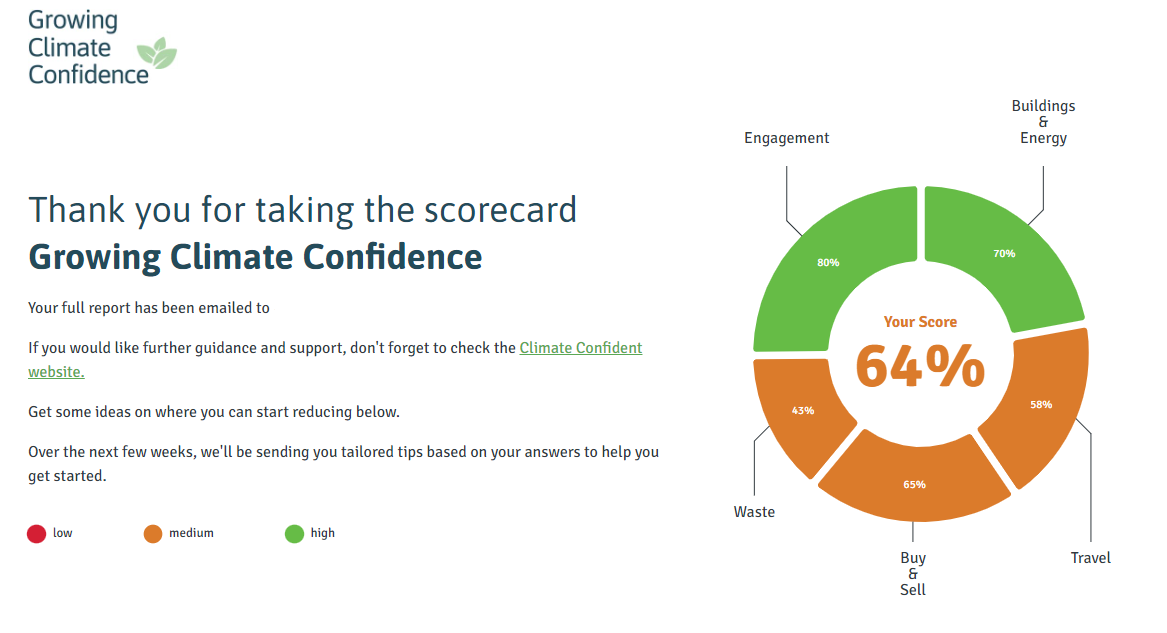 The scorecard is for organisations in the third sector in Scotland that want a snapshot of how they're doing across different areas. It's quick and easy to fill in, and will help you get a sense of where you're doing well, where you're making progress and where you might need to do more.
You won't need lots of exact information to use the scorecard, but it might help if you find out some of the following (or do it alongside someone who knows them):
Energy tariff – what kind of energy
Energy performance in offices – including draught proofing, lightbulbs, and any other enhancements
Staff commuting - common travel habits and any policies
Purchasing policy – how do you work with current and new suppliers
Waste - awareness of what happens with waste.
Straight after filling in the scorecard, you get your own personalised report. This shows you an overall score, plus your stronger and weaker areas. The scorecard results will also give you some quick tips on what you can do next.
Afterwards, we'll send you bespoke emails based on your answers giving you helpful advice and ideas for how to take the next steps. These tips should help you take actions that get you further on your journey to net zero.
We know that it can be hard to make changes around things like premises, energy suppliers and waste if you don't own your own building and your landlord isn't willing to make changes. This might mean ticking 'no' or 'not applicable' to a lot of questions.
We wanted to balance the speed and ease of this checker with the nuance – but we're thinking about this issue for our next phase.
Some of our testers also told us getting a low score was a useful tool for influencing a landlord, so it's still worth taking the scorecard and answering as honestly as you can.